4 Best Funny Picture Editors for Making Funny Pictures
When it comes to choosing a funny picture editor, you may easily get lost in bundles of photo editing software. There never lack of funny photo editors, but those handy and really able to bring you some laughter are few. To help you get fun from photo editing, here we provide the best funny picture editors, which are picked from most popular online photo editing websites, paid photo editing software and free funny photo editors.
1. Funny Photo Maker - the best free funny picture editor
Funny Photo Maker stands out mainly because it's free to make funny pictures. Its other merits like easy-to-use, lots of free funny picture templates and multi-language indeed make it more attractive to the funny photo funs. Unfortunately, it has much less funny picture templates when compares to the online photo editing websites and the paid photo editing software. However, we should not expect a free program as same as the online photo editing websites and the paid funny picture editor. It is remarkable that Funny Photo Maker continues to improve its function and add funny picture templates. This free funny photo editor indeed worth our try when we are off the network and boring. Besides, it can be a very interesting friend for kids to have fun. Want to know more about Funny Photo Maker ?
2. Funny.Pho.to - the best online photo editing website
If you can always get the internet connected, sure you should use this online funny picture editor - Funny.Photo.to to make funny pictures. As it states when you go this website, it has more than 500 free funny picture templates online. You can add frames and borders to your photos, make funny photo montages and 'face in hole' pictures on this online photo editing website. It's easy to make a photo collage or apply a fun effect to your photo on this website.  You can upload images from your hard drive, or via an internet url, or click a photo you uploaded earlier to this online photo editing website.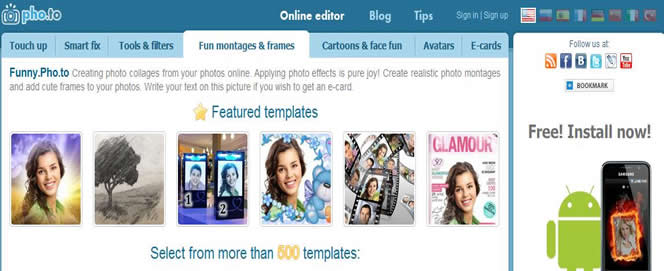 Compared to other online photo editing websites, this online photo editing website is more popular for its large amount of funny pictures templates and its main site contains many other impressive sub-sites for photo editing. If you are interested in other online photo editing websites, Dainis Graveris's articles "28 Online Photo Editing Websites To have Fun With" and "15 More Really Fun Online Photo Editing Websites" can help you.
3. Fun Photor - the best paid photo editing software
If you search words like "funny photo software", you'll see that this program shows in the first page of the results. No doubt this is a nice program. It has more than 100 templates for user to choose, its text editing function allows you to add colorful taglines and descriptions and it even allows you to customize the funny photo templates and make your own funny photo templates. Making funny photos with this funny photo editor is easy too.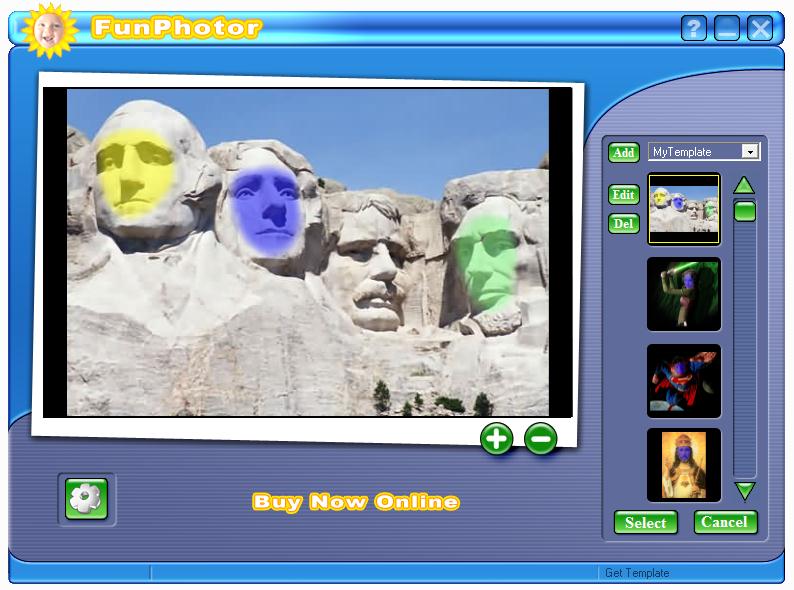 In general, with its outstanding features mentioned above, this photo editing software is a pretty good program. However, one thing that makes many people do not want to use it is that it is not a freeware. The standard version will costs you 49.95 Dollars and the professional version is $69.95. Anyway, it is pretty good among the shareware for making funny pictures. With so many good photo editing websites for you choice, we guess pretty few people will choose to buy a program. The free funny picture editor mentioned isn't bad choice yet.
4. Photo Slideshow Maker - the best Funny Photo Slideshow Maker
This funny picture editor is a little bit different to the above three. It can turn your photos to funny photo slideshow. Most often, we use Photo Slideshow Maker to make banners for website or web albums. However, it can bring fun to photos too. It allows you to edit your photos in many ways. You can add text and artclips like bubbles, frames, heart etc to your photos. It's art effects can turn your photos to oil paint, water paint, wax paint etc. Using this funny photo slideshow maker can turn your photos to funny animations.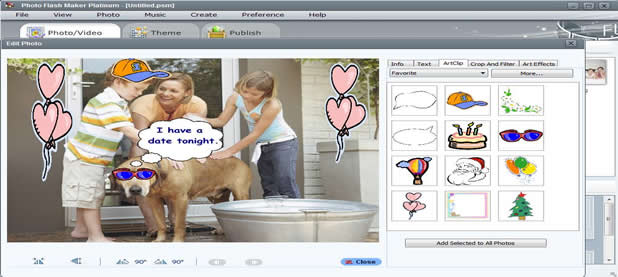 For those who want to try more funny things, this funny photo editor obviously can meet their need for it's function of making photo slideshow. One thing that need to notice is that this photo editing software also need you pay for it. You'll see its prices is equal to FunPhotor while it can turn your funny photos to slideshow. So it worthy to download Photo Slideshow Maker and have a try.