Free Photo Editing Software
If you are looking for a free photo editor which can make funny photos, then Funny Photo Maker is absolutely the first choice. You'll get lots of results about "free photo editing software" after searching it by searching engines, choosing which one may become a headache for most people. However, if you have a look at the features of Funny Photo Maker below, we bet you'll believe that Funny Photo Maker becomes the best choice for you since there are several obvious advantages.
1. Free to edit photos
No matter cheap or expensive, most photo editing software needs you spend some money on it. Some may even charge fees for upgrading specific functions after you bought it. However, Funny Photo Maker is a totally free photo editor. You do not need to cost a cent for downloading, using or upgrading this free photo editing software.
2. Beautiful & Clean Interface
Having a clean and beautiful interface can let users have a better first impression, and Funny Photo Maker did it. Having a look at the screen shot below, you'll see that all the tabs and buttons in Funny Photo Maker are displayed clearly and in obvious places, which make the whole interface is quite clean. No wonder that users can find all the buttons once they open this free photo editing software. Besides, Funny Photo Maker has a light blue interface, which makes this program looks quite fresh and the photo editing work becomes easy and enjoyable.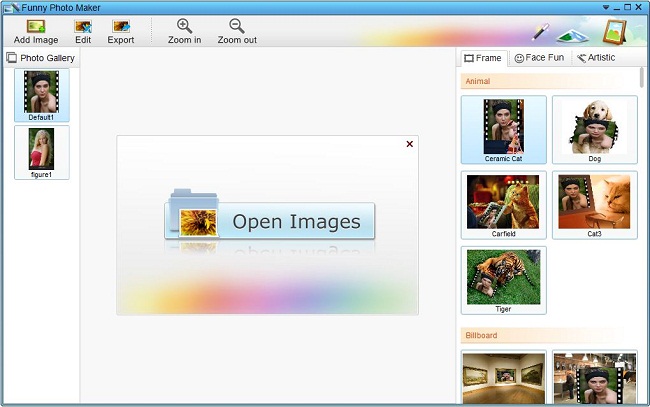 3. Easy and Intuitive Operation
Easy and intuitive operation should be one of the most important goals that all tools to pursuit. There are many funny photo editing software that can edit funny photos, however, users need to learn many skills to edit the photo effects they want to get. Funny Photo Maker is designed for users of all ages and levels. Users do not need to read instructions or get technical support to edit funny photos. Basically all the settings you need are on the interface. Users can import photos to this free photo editing software by clicking the "Add Image" button; choose the funny effects style by clicking "Frame" tab, "Face Fun" tab, and "Artistic" tab; edit the funny effects by clicking "Edit Original Image" tab and "Edit Template" tab; and export their funny photos by clicking "Export" button. Editing photo is never as easy as now.
4. Various Different Funny Effects
There are altogether three groups of photo effects in Funny Photo Maker. They are "Frame", "Face Fun", and "Artistic". Using templates in Frames group can bring your photos in different scenes; applying "Face Fun" templates can make fun of any faces in your photos; and adding photos to Artistic templates can make your photos more artistic. These free photo editing software upgrades almost once a week, which mean more and more templates will be offered to users soon .
5. Good Customer Service
We know there are some concerns about the customer service for Funny Photo Maker is a free program. Here we assure you all that we care user's feedback the most and we improve this free photo editing software according to our user's feedback.