Funny Photo Maker: Windows Free Photo Editor with Instagram Photo Effects
We all know how much fun Instagram can be and we're all obsessed with Instagram photo effects that make our photos look like they were taken by our grandparents. Filter effects like Instagram are simple. Adding some stunning effects to your smart photo photos at the click of a button with Instagram is great. But adding them in Funny Photo Maker can also be fast and simple, even though you may never have heard about Funny Photo Maker.
Funny Photo Maker is a free photo editor that helps you simply import your photos to Funny Photo Maker to begin free photo editing without messing around with a mess of menus and buttons. Once you've added a photo you can start choosing funny templates in the right panel. There are basic photo editing functions like crop, flip, rotate, add text, add art-clips, and filter. And there are also some cool artistic photo effects like Lomo effects, paint effects, and sketch effects. If you try this program, you will find that Funny Photo Maker can offer you more fun and photo effects than Instagram.
Let's take a quick look at how to get your photos with Instagram photo effects in just a few steps.
1. Import your photo to Funny Photo Maker
It's easy to import a photo to Funny Photo Maker. You can figure out intuitively once you open Funny Photo Maker.
2. Crop and filter your photos
After importing your photo, click the "Edit" button, then you will see below.
Tips: the "Edit" button is between the button "Add image" and the button "Export", you can easily find it from the screenshot below.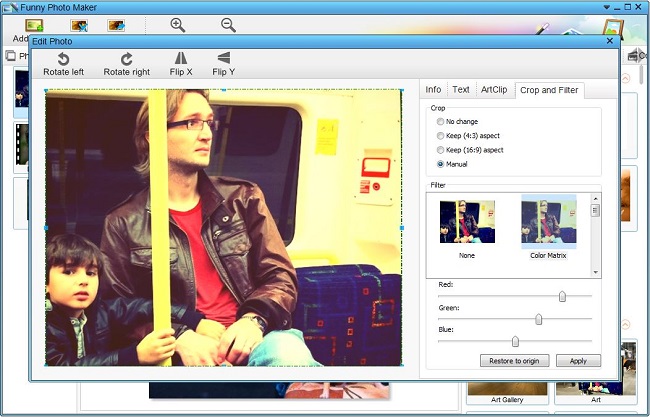 As you can see from the above screenshot, there are rotate buttons, flip buttons and crop and filter functions. After editing your photo in the "Edit Photo" window, you need to click the "Apply" button to save your editing works.
3. Add lomo effects
Lomo effects can make your photo more stunning. If you want to add lomo effects to your photo, you need to click the tab "Artistic".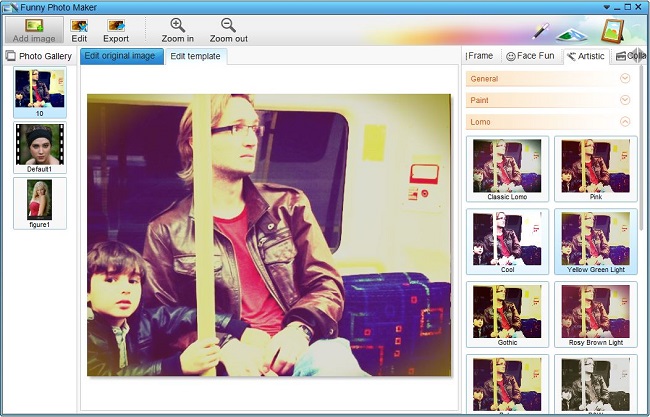 4. Share your photo on Facebook, Twitter, Flicker and Export it to PC.
When you think your photo is ready to be published, click the "Export" button. A new window will open, you can share your photo on Facebook, Twitter, Flicker first and then save your photo on your PC.
It's obviously that Funny Photo Maker can't be compared to PhotoShop, but if you just want a few simple photo editing tools like filter, crop, and lomo effect, then Funny Photo Maker is far easier to use and a much cheaper alternative that you can access.