Make Photo Galleries with Your Funny Photos
If you are a user of funny photo editing websites or programs, you must have lots of funny photos about yourself or friends. Generally, you like sharing funny photos to social networking websites, photo forums, and professional funny photo sharing websites. However, no matter which kind of website you choose, it will be much inconvenient if you share funny photos one by one. So why not make a photo gallery with your funny photos?
Making a photo gallery with funny photos only needs a few minutes. After you share your photo gallery, all your friends can enjoy it by just one clicking of the "Play" button. Isn't this way better than keep scrolling the mouse to see all your funny photos? To make a photo gallery, you need a photo gallery maker. Here introduce a program that can make photo galleries in video format so that you can share it on almost any website.

Free download Photo DVD Maker to make a photo gallery with funny photos
How to make a photo gallery with your funny photos?
Preparations:
1. Install Photo DVD Maker and run it.
2. Save all your funny photos in one folder.
Step 1. Add funny photos to Photo DVD Maker
The screenshot below shows the interface of adding funny photos to Photo DVD Maker. There is a panel on the left. It's for exploring the location of your funny photos. After finding the folder which saves your funny photos, the panel in the middle will display all your funny photos.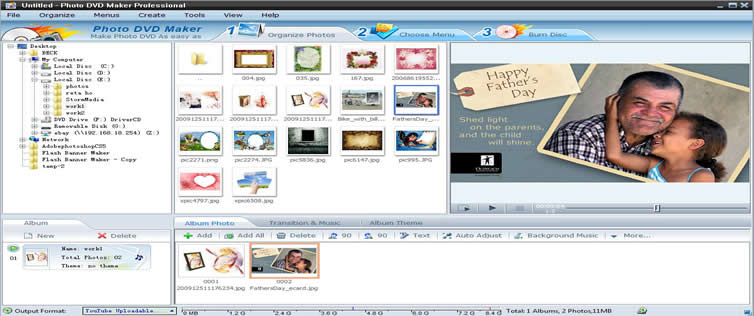 You can add your funny photos by dragging and dropping your photos to the lower panel, clicking the "+ Add" button, and add all funny photos by clicking "+ Add all" button. Changing the order of the funny photos added to Photo DVD Maker is easy too. You only need to drag it.
Photo DVD Maker also can add transitions, background music, and themes to photo galleries. As the screenshot above shows, the step of adding photos is taken under the tab of "Album Photo". While the place for adding transitions and music is under the tab of "Transition & Music", which is right on the right of the "Album Photo" tab. And the place for adding the theme of your photo gallery is under the "Theme" tab, it stands on the right of "Transition & Music". After you add funny photos, choose transitions, set background music and themes, the preview window on the right can preview all the effects of your photo gallery.
Step 2. Export your photo gallery
Because Photo DVD Maker can also burn photo gallery to DVD, so it has a "Choose Menu" tab. However, you do not need to burn your photo gallery to DVD for the photo gallery we are making is for sharing on website. So we can skip the choosing menu step and go directly to the export photo gallery step.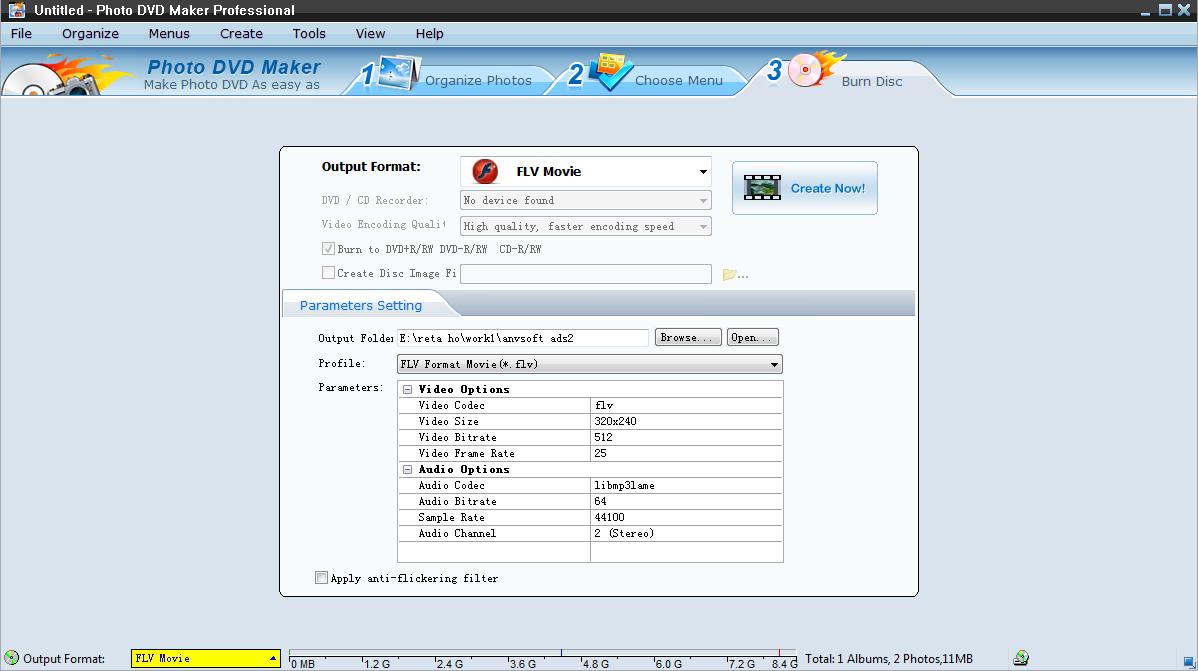 Clicking the "Burn Disc" tab can bring you to the interface of exporting your photo gallery. You should choose a video format for your photo gallery first. It can be done by clicking the pull-down menu which is on the left of "Output Format". Then you should choose the output folder and export your funny photo gallery by clicking the "Create Now" button.

Free download Photo DVD Maker to make a photo gallery with funny photos