Christmas Songs for Making Christmas Slideshows
Christmas is an annual holiday for billions of people around the world to commemorate the birth of Jesus Christ. After Christmas, most people like collecting their Christmas pictures and  then make a Christmas slideshow for recalling the happy family and friends time in the future. To make a Christmas slideshow, Christmas songs are a must. Whenever you listen to Christmas songs, you can soon feel delighted and fill with the spirit of Christmas. Now, the list of Christmas songs is shown below. Have a look at it and then choose your favorites to make your Christmas slideshow.
For making an impressive Christmas slideshow for sharing on your own websites or social networking webites, we highly recommend Photo Flash Maker. (See the tutorial on How to Make a Christmas Slideshow with Music and Share It)
For making a video formate Christmas slideshow to share on Youtube or burn to DVD, we suggest you to use Photo DVD Maker. (See the tutorial on How to Make and Burn a Christmas Slideshow to DVD)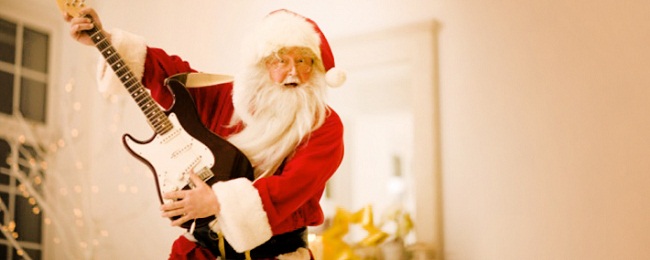 Lively Christmas Songs
Lively Christmas songs are most people's favor, especially for the kids. The most famous lively Christmas song is Jingle Bells. It is very popular in counties which do not take Christmas as a formal public holiday too.
1. Jingle Bells - This Christmas song may be the first Christmas song to 90% percent of kids. It's easy to learn the tunes and it's really a very cheerfully Christmas song.
2. We Wish You a Merry Christmas – What kind of Christmas should we have? A merry one! So this song wishes you a Merrry Christmas.
3. Santa Claus is Coming to Town - This is a classic Christmas song. It teaches children to have good behavior. Most kids believed that as long as they behave themselves, Santa Claus will send them Christmas gifts instead of a lump of coal.
4. Silent Night - This is a classic Christmas song which refers to the birth of Jesus Christ. By listening this Christmas song, kids will learn more about the true spirit of Christmas.
5. All I Want for Christmas is My Two Front Teeth – This is a novelty Christmas song. It's sung by a child who has lost his two front teeth.
6. Rudolph the Red Nosed Reindeer - This Christmas songs talk about Santa's special reindeer, Rudolph, who made a name for himself by using his glowing red nose.
7. Frosty the Snowman - The Christmas song tells the story of a snowman who is brought to life through a magical black top hat that a group of children place on his head. Although Frosty enjoys playing with the children who built him, the sun becomes too much for him to bear and finally Frosty is forced to leave.
8. The 12-day of Christmas - This fun little kids Christmas song introduces 12 gifts given on the 12 days heading up to Christmas. It is a fun song to help younger children with their counting skills.
Christian Christmas Songs
Singing and listening to Christian Christmas songs is festive and honors Jesus at the same time. Many traditional Christmas hymns are well-known and loved, and contemporary Christian artists are coming out with new faith-based songs every holiday.
1. Angels We Have Heard on High – This is one of the most classic tunes at Christmas and it is often stated as one of the most popular choices in Christmas carols during the holiday season.
2. Come, O Come, Emmanuel –This Christian Christmas Song stirs the heart and brings forth the message for the faithful to enjoy the holiday season. It was ideal to represent the season of excited enthusiasm for one of the most important holidays for Christian believers.
3. Mary Did You Know? – "Mary, did you know", "That your baby boy will one day walk on water?", "Mary, did you know", " That your baby boy will save our sons and daughters?". The whole Christian Christmas song singing repeatedly the question "Mary, did you know".
4. Joy to the World – It is said that this Christian Christmas Song is one of the oldest and most established Christmas carols ever. Every year, this Christian Christmas Song is frequently played and sung by revelers internationally. Its exaltation for the joy of the holiday season and the birth of Christ are evident.
5. We Three Kings - This Christian Christmas song is a solemn and processional-style song. The story of the Wise Men from the East who brought gifts to the infant Jesus is easily portrayed with it's nicely lyrics.
6. Away in a Manger - This Christian Christmas Song is used widely throughout the English-speaking world.
7. God Rest You Merry Gentlemen - This is one of the most cherished and classic Christian Christmas Song of all time, and it is considered to be a shining example of the songs sung at the holiday season.
8. Hark! the Herald Angels Sing – This is a beautiful and captivating Christmas carol sung by Christians throughout the world. Anyone who listens to this song would be cheered by the eventual outcome of this cherished song.