How to Make Funny Pictures for Facebook
Facebook funny pictures or say funny Facebook images really can let you get lots likes and comments, that's why more and more people are searching for a funny photo editor to make funny pictures for Facebook. The most common funny photo effects are using funny faces and funny quotes. Here this page tells you how to make funny pictures for Facebook. The steps are simple and the funny photo editor you need is Funny Photo Maker. If you do not have Funny Photo Maker, please download it, it is free to download and use this program.

Free download Funny Photo Maker
1. Upload photos to funny photo editor - Funny Photo Maker
To start making a funny photo for Facebook, a photo should be uploaded to Funny Photo Maker first. The picture writes "Open Images" is for uploading photos to Funny Photo Maker, so you just need to click it, and then you'll get the following screenshot.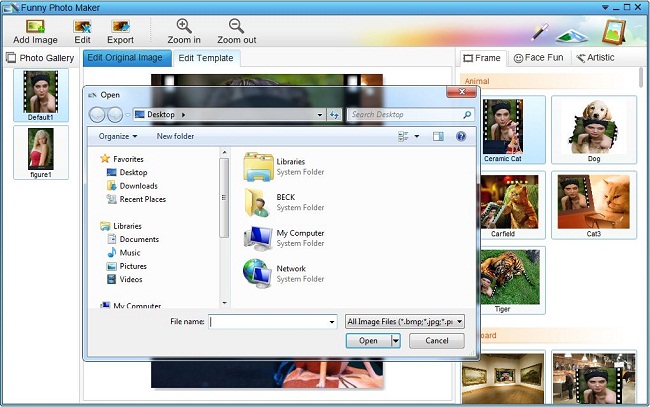 In the new opened window, you can easily find the photo you want to make a Facebook funny picture with. After you find your photo, you can finish the uploading process by clicking the photo and the "Open" button.
2. Choose a Face Fun template and edit it
Once the photo was successfully uploaded to the funny photo editor, you can start to edit funny photo effects for your Facebook funny picture. Owing to the fact that "Face Fun" templates are more suitable for creating Facebook funny pictures, so we can ignore the other two funny effect groups and go directly to the "Face Fun" tab.
There are lots of free face fun templates in Funny Photo Maker, and you can choose any one you like to make funny photos for Facebook. After you choose your favorite "Face Fun" template for editing funny Facebook photos, you can click the "Search Face" button to let this funny photo editor automatically search the faces on your photo. If you want to edit the template you choose, you can click "Edit Template" and then click "Show Control Panel" button.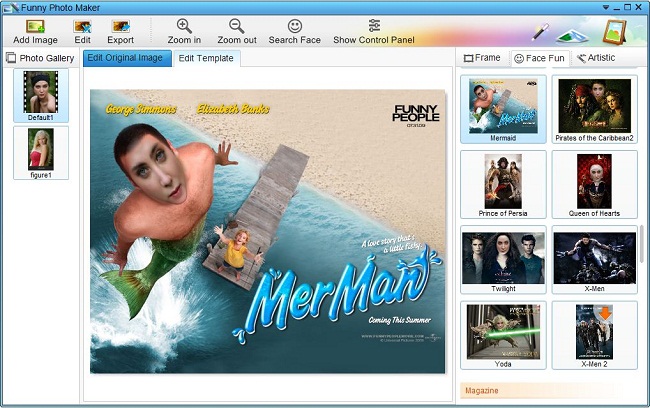 3. Add funny quotes to your funny Facebook picture
Until now, the editing work of making funny photo for Facebook has finished the first half. In fact, the Facebook funny picture you made can be uploaded even without the next step, however, adding some funny quotes may make it more fun. Users of Funny Photo Maker may know that Funny Photo Maker provides users the functions to add texts and art clips to pictures since the release of the 2.10 version. These functions can be found with a click of the "Edit" button, which is on the right of the "Add Image" button. To edit funny quotes to the funny Facebook picture you are editing, you need to click the "Edit" button. The following image it the interface after you click the "Edit" button.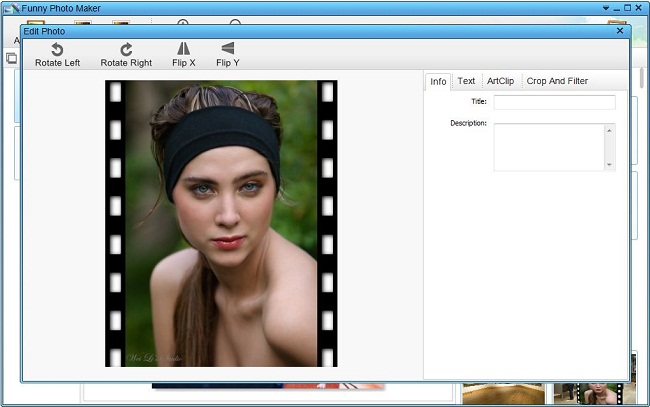 4. Export the edited funny photo
Exporting your Facebook funny picture can be started by clicking the "Export" button. Once you click it, a new window will activate for choosing to go through the above steps again or save the edited funny photo. You can go through the above step again with a click of the "Edit" button on this new window. If you click the "Save" button on this window, you will get a new export window for setting the size and choosing the location for the Facebook funny picture you edited. After you set the size and the location for your Facebook funny picture, you can finish the exporting process by clicking the "Export" button on that window.
After learning How to Make Funny Pictures for Facebook, don't you think making Facebook pictures is really very easy? Now it's your turn to make a funny picture for your Facebbook. Wish your funny Facebook pictures will get many likes and comments. By the way, if you want to try the frame templates, please go How to Frame Pictures by Yourself.